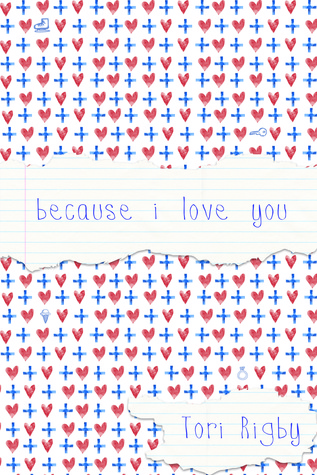 Because I Love You
Tori Rigby
Eight weeks after sixteen-year-old Andie Hamilton gives her virginity to her best friend, "the stick" says she's pregnant.
Her friends treat her like she's carrying the plague, her classmates torture and ridicule her, and the boy she thought loved her doesn't even care. Afraid to experience the next seven months alone, she turns to her ex-boyfriend, Neil Donaghue, a dark-haired, blue-eyed player. With him, she finds comfort and the support she desperately needs to make the hardest decision of her life: whether or not to keep the baby.
Then a tragic accident leads Andie to discover Neil's keeping a secret that could dramatically alter their lives, and she's forced to make a choice. But after hearing her son's heartbeat for the first time, she doesn't know how she'll ever be able to let go.
DISCLAIMER: I received a copy of this book in exchange for an honest review. All opinions are my own and not, by any means, influenced by others. This review may or may not contain spoilers. I participated in the book blitz for this book, and knew I needed to read it.
From the moment Andie introduces the 'Bad Boy, ex-boyfriend' (<<this image is fairly accurate, and I right?) to the story, you automatically know he is important to the rest of the plot. Also, we are thrust right into learning that she is buying "the stick" at the pharmacy. The only reason Andie is even taking a test is because of Carter. They had not expected to do what they did, but they were also not entirely prepared for the consequences. Needless to say, Carter is a complete jerk when everything is out in the open. Andie's other best friend, Heather, is not happy with what went down between Andie and Carter.
Just when all seems to go out of control, Neil is at Andie's side, willing to help her in any way that she might let him. Given his reputation, and the scar he had left in her heart, Andie is reluctant to let him do much, but she is happy to know she has someone near her. With the entire school gossiping and stabbing her in the back, she is beginning to think she is alone. Neil is not willing to let her believe that. He even takes her to a clinic and pretends to be the father so she can . . . deal with it.
Luckily, Andie does not go through with it and decides she wants to keep her baby.
Of course, old feelings are aroused, and Andie learns that Neil is not going to let her slip away without giving him a chance. This is good example of not judging a person before you get to know them better. Andie really learns this lesson as she opens up to Neil more and more.
My Rating: 5 of 5 Stars.


I loved this book so much! I read it in a few hours, and then I read over my favorite parts again. I loved the way Neil was there for Andie from the start, despite the fact that everyone else, with the exception the few people who do care about Andie, are as supportive. I cried a few times! I think my sister(s) wanted to slap me because I was bawling. A wonderful story and every bit of it is worth your time. So, grab a copy today!
About the Author
Tori Rigby is a YA author of Contemporary and Historical Romances. She longs to live in the Scottish Highlands, and her favorite time and place in history is Medieval England—so much that she'd give up her Internet and running water to go back in time! Tori also writes YA genre fiction as Vicki Leigh.