No Falling Allowed
(
No Kissing Allowed #2
)
Melissa West
My life just went South…
Twenty-four hours. That's how long it took my life to flip upside down.
Wake up in bed alone after the best night of my life? Check.
Get fired instead of the promised promotion? Check.
Wealthy parents cut me off when I refuse to follow their path for my life? Check.
Now I'm in Cricket Creek, SC—a place where no New Yorker belongs—disowned and broke, with a new job that I can't mess up. Oh yeah, and staring at my one-night stand, who happens to be the complete opposite of my type.
Southern. Cocky. Bartender.
Noah Hunter never should have made it back to my apartment in NYC, and I definitely shouldn't be in his small town. But fate had another plan. Or a horrible sense of humor.
Who knew Mr. Wrong could feel so right…
Each book in the No Kissing Allowed series is a standalone, full-length story that can be enjoyed out of order.
Series Order: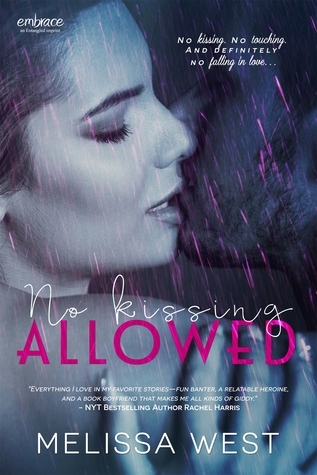 Add to Goodreads
Book #1 No Kissing Allowed
Book #2 No Falling Allowed
DISCLAIMER: I received this book through NetGalley in exchange for honest review.
I wish I had jumped at the chance to read the first book, but I was swamped at the time. This book follows Cameron's friend, Grace. Grace's family has money, but she is independent of that detail and wants to make her own name in New York, without Daddy's help.
Enter Noah, or Hunter (as he introduces himself). Typical Bad Boy feeling from the start, yet there is so much more to him than meets the eye. Noah's parents are gone and the only close family he has left is his younger brother. He runs a popular bar in the South, so we can imagine he is quite the catch. *SIGHS* I do love me a man with a southern drawl.
As far as first impressions go, Grace is not so sure she wants to let this guy show her how to live. That goes out the window soon enough. For Noah, he cannot get her off his mind. What is it about this woman that has him on a fish hook?
What starts out as a simple hypothetical/metaphorical evening turns into a one-night-stand . . . or so we think. Noah leaves due to family emergency, leaving nothing for Grace to know that he has plans to see her again. But Grace doesn't know this.
Right when we think the characters are never going to see each other again, Fate secretly steps in and WHAM! We have contact.
My Rating: 5 of 5 Stars.
I think the best part about this story was the fact that these characters are basically opposites. But opposites attract and these characters are seriously attracted to each other. Easily
FALLING
in love with this book is inevitable. The plot was semi-predictable, but I still loved every second of it.