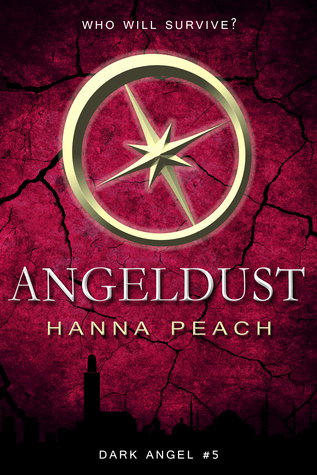 Angeldust
(Dark Angel #5)
The thrilling conclusion to the Dark Angel series…
Everything about Michael's dark plan has been hidden – until now. On an island off the coast of Egypt, a fourth Seraphim city has been discovered; a city that doesn't appear on any Seraphim map. This city is hidden, the air smells of blood and there is something very, very wrong with the inhabitants.
Back at Castle Speranza, while Alyx is off uncovering the secret of Raphael's charm, someone will betray her in the worst possible way…
Michael now has everything he needs. Will Alyx be able to stop Michael? Or could this be the end of the world as we know it?
DISCLAIMER: I received a copy of this book in exchange for honest review.
This book finishes the Dark Angel series with quite the bang. Alyx and Israel have an even stronger bond than they had prior and there is a traitor in their midst? I do not remember mentioning Jordan in any of my last reviews (doubtful), but Jordan is trying to get over his feelings for Alyx, because she has made her choice. Jordan and Israel do not get along very well, and it was funny to read their bantering. It was hilarious every time Israel called Jordan 'Blondie', and Jordan calling Israel 'boy'. This book has it moments to even out the suspense, but I would have to say it is mainly suspenseful above anything else.
I cannot even begin to say how sad it is to finish a series. The comforting part is I can go back and read them all over again! I'm gonna have to in order to see specific characters again. Its like . . . You know that feeling you get when you think some characters are real and then something happens to them and you think they are gone forever? That's the feeling I get from ending this book. I was in tears and my sisters were just about ready to slap me because of it. But it was so worth it!