Hey Invaders! Let's have a round of applause for these new EntangledTeen CRUSH titles! You all know how crazy I am about this imprint. I am currently reading each of these and will have review posts within the next couple of days (depending when I finish reading, because I've been on and off with other books as well). I cannot wait to share with you what I thought of these books. Click the banner above to join Julie Hammerle, Sara Hantz, Emily McKay, Stacey Trombley, Julie Cross, and Casey Griffin for a night about all things romance and swoony!
Any Boy But You
(North Pole, Minnesota #1)
YA, Romance, Contemporary
Elena Chestnut has been chatting with an anonymous boy late into the night. It's a very You've Got Mail situation, and she has no idea who he is. He can't be Oliver Prince, hot-and-bashful son of the family running the rival sporting goods store. Their fancy sales strategies are driving Elena's family out of business. Elena's mystery boy has teamed up with her in their latest sales strategy, an augmented reality game, to help her win the grand-prize plane tickets. Money's so tight Elena's going to miss senior year spring break with her friends if she can't win this game.
The girl Oliver's fallen head-over-heels for online had better not be Elena Chestnut. She's his angry, vindictive Latin tutor, the daughter of his dad's business rival, and the one girl he'd never even think of kissing. She's definitely not his online crush, because that girl is funny, sweet, and perfect.
When Oliver asks to reveal their names at the Valentine's Day dance, their IRL relationship will either ruin what they have online, or they'll discover just how thin the line between love and hate really is.
Disclaimer: This Entangled Teen Crush book contains swearing, snowball fights, and sexual tension that could melt the North Pole. Read at your own risk.
Weddings, Crushes,
and Other Dramas
(Creative HeArts, #6; Willa and Finn, #2)
YA, Romance, Contemporary
Falling in love with the best man wasn't on the program.
Willa is happy to be the maid of honor in her dad's upcoming wedding to uber-celeb Mia McCain. Not as happy about the best man being her soon-to-be stepbrother, the infuriating—and infuriatingly gorgeous—Finn McCain. Every time their paths cross, the attraction simmering between them grows a little harder to ignore. Willa knows all about guys like Finn—they only want what they can't have. What's between them isn't real.
Finn has never felt anything more real than what's developing between him and Willa. Sure, her dad warned him to steer clear, but it's not just about forbidden temptation. He's determined to prove to Willa he's not going anywhere—and that happily-ever-after will always be worth the risk.
Disclaimer: This Entangled Teen Crush book contains a wedding so crazy it'll make you laugh, a stepbrother so hot he'll make you swoon, and a heroine so real she'll make you cry.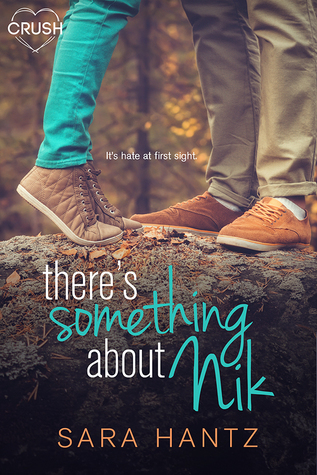 There's Something About Nik
YA, Romance, Contemporary
Nik Gustafsson has a secret: He's not really Nik Gustafsson.
He's not a spy. He's not crazy.
He's just the son and heir to one of the most important families in Europe—one where duty always comes first. And his posh, too-public life is suffocating him. So when he gets the chance to attend boarding school in America, pretending to be an average exchange student is too big of a temptation to pass up.
Then he literally runs into Amber on campus. And she hates him at first sight.
It's kind of exhilarating to be hated for who he is, not for his family name or his wealth. Maybe if he turns up the charm and turns down the aloof mask he habitually wears, he can win her over. Even though a bad past experience has made her swear off dating this year.
But the more he gets to know her, the more uncomfortable he is keeping things from her.
Because Nik Gustafsson has a secret. And it's a big one.
Disclaimer: This Entangled Teen Crush book contains a hot boy who's the strong and silent type, a studious girl who refuses to believe in fairy-tale romance, and one epic secret that could be disastrous if it comes to light.