Hello fellow bookworms! Welcome to another book rambling post (yes, I know, I ramble about books a lot). For those of you who follow my
FB page
, you may have seen some of the books I am about to mention, or you might have seen a review here on my blog for some of these books. I have decided over the last month that I will not make a TBR list for myself. Because something always seems to put a pause in the reading plans. So, I have been taking things as they come, and it is working out for the better. You know my drill: Goodreads links are in the book titles. If I have a review for a book that I mention, I will link it as well. Some books, if unfamiliar, will have the blurb/summary.
Here we go! (I will not mention ALL the books, because it was a lot!)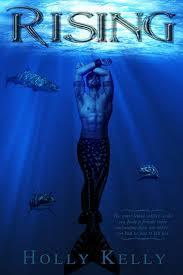 Rising
(Rising series #1) by Holly Kelly
In a war between the humans and the inhabitants of the sea-humans will lose. Xanthus Dimitriou -the most lethal Dagonian to rise from the ocean-is on a mission to save mankind from annihilation. But first there's one small thing he needs to do... kill a beautiful young woman in a wheelchair. Killing her doesn't start out as part of his plan. He entrenches himself deep in the human world. Aligning himself with his enemies, he prepares to send them to Triton to face their punishment. Then Sara Taylor rolls onto the scene. Xanthus knows at once she's a criminal. And her crime? Being born. She's a human/Dagonian half-breed, an abomination. Killing her should be an easy job. All he has to do is break into her apartment, slit her throat, and feed her body to the sharks. Simple, right? Wrong. If only she weren't so beautiful, so innocent, so sweet... Saving the world may have to wait. It appears Xanthus has a woman to save. But protecting her may cost him his own life.
I am not big on Mer/Siren books. But this is book was epic! I started it yesterday, telling myself that if I didn't like it, I could delete it. But the first few page held my attention. Really liked it, since it is the first "official" Mer/Siren/Dagonian book I have read. And now I need the next book!
I've read pretty much all of my Entangled Teen (CRUSH) books by now. As well as re-read some of the ones I already had. There is another Creative HeArts book coming out soon, and I read that one recently, so expect a review soon! I love me a good CRUSH novel.
Along with all the books I have been reading for blog tours, I have gone to some of the books on my shelf. The reason being I was grounded from my tablet and needed to counteract the withdraw.
Daughter of Lions by Catherine Banks
This is probably the fifth time I have read this book. I think it was so much better this time around. I am falling in love with Brandon all over again. I laughed, I cried, and I screamed at the book. (My siblings gave me the "LOOK", so I must have screamed pretty loud.) Definitely worth another re-read at some point down the road.
From Where I Watch You
by Shannon Grogan
Sixteen-year-old Kara McKinley is about to realize her dream of becoming a professional baker. Beautifully designed and piped, her cookies are masterpieces, but also her ticket out of rainy Seattle—if she wins the upcoming national baking competition and its scholarship prize to culinary school in California. Kara can no longer stand the home where her family lived, laughed, and ultimately imploded after her mean-spirited big sister Kellen died in a drowning accident. Kara's dad has since fled, and her mom has turned from a high-powered attorney into a nutty holy-rolling Christian fundamentalist peddling "Soul Soup" in the family café. All Kara has left are memories of better times.
But the past holds many secrets, and they come to light as Kara faces a secret terror. Someone is leaving her handwritten notes. Someone who knows exactly where she is and what's she's doing. As they lead her to piece together the events that preceded Kellen's terrible, life-changing betrayal years before, she starts to catch glimpses of her dead sister: an unwelcome ghost in filthy Ugg boots. If Kara doesn't figure out who her stalker is, and soon, she could lose everything. Her chance of escape. The boy she's beginning to love and trust. Even her life.
If you like Pretty Little Liars and the books from Gayle Foreman, than you will definitely love this. I am not a fan of PLL, and I have only skimmed one of Gayle's books, but I loved this book! It was so good, I cannot even begin to describe it. I mentioned in my review on Goodreads that I did not like the way the main character, Kara, saw her mother. Her mother was fantastic character in my opinion and I would have loved for there to be a different sense of respect for how her mother views things, but it was a great point in the plot nonetheless and I actually want to give it re-read soon.
I've got so many other books I want to share, but I think it would be best to share them in their own posts, since they are books that I received in exchange for honest reviews, or for blog tours. So, until next time!
Do vstrechi! See ya!