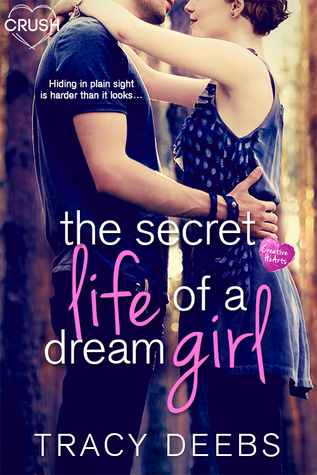 The Secret Life of a Dream Girl
(Creative HeArts #4)
by Tracey Deebs
Expected publication: June 27th 2016
Published by Entangled: Crush
Disclaimer: This Entangled Teen Crush book contains adult language, references to drinking and drugs, and a kiss so steamy it'll fog up your E-reader.
Hiding in plain sight is harder than it looks…
Dahlia Greene—aka international pop superstar Cherry—is undercover as a normal high school student. She just wants to experience what real life is like, so when she overhears hottie Keegan Matthews nervously talking about liking a girl, she sees the perfect opportunity to live a real life and play a little matchmaker. What was not part of the plan was falling for a guy she can never tell the truth.
Keegan Matthews has been secretly crushing on Dahlia ever since she started at his school. Sure, Dahlia thinks he's crushing on some other girl—not realizing his Dream Girl is actually her—but he figures, play along with her tips to woo someone else, let her get to know him, and then make his move. But with so many secrets in the mix, their romance is doomed from the start…
Dahlia and Keegan, Book 1 of 3
Dahlia and Keegan Book 2 coming March 2017
DISCLAIMER: I received a copy of this book (through NetGalley) in exchange for an honest review. (There's going to be more books with these characters! *SCREAMS WITH EXCITEMENT!*
First things first: If you guys have read the previous books in the Creative HeArt series, you will know how easy it is to fall in love with this series. This book follows Dahlia and Keegan. Dahlia, for those who know the series, is actually the new girl in the last book, who recommends to Mariely to get a new hook-up. Yes, the girl with the pixie-cut.
Dahlia Green is actually the famous pop sing/song-writer, Cherry. Also, she is actually good friends with Finn (the only son of Mia McCain). No, they do not see each other like that. Finn knows Dahlia is Cherry, but he seems to treat her like a sister, which is adorable.
Keegan, dearest Keegan. He watches the new girl from afar and just does not think he is confident enough to go after her. He gets jealous every time he sees Finn near her, and who wouldn't be? At a Halloween party at NextGen, Keegan is talking to Jace (Mariely's ex from the previous book) and Dahlia hears the last bit of his conversation. When Jace leaves, Dahlia sees that Keegan is EXTREMELY attractive and a very sweet guy. She is not his Dream Girl, but she is determined to help him win her over.
Voila! That is how it all begins!
My Rating: 5 of 5 Stars.
The moment I learned what the new book in the series would be about, I squealed in delight. I had been waiting for the announcement and when it came, I could not contain myself. This book mentions Tru and Sloane (where my love for the series began). The ending had my heart on the floor! Also, knowing there is to be another book to follow the characters in each of the books (meaning they start their own, separate series too!) gives all the more reason to want to read more! Keegan is so real to me. I just want to crawl into the book and switch places with Dahlia/Cherry. I want it to be me!