Alright, alright. I know what you're gonna say. "You already shared a review for that book, Haddie!" Hey! Honor where honor is due, right? The reason I am sharing it again is because I finished reading the series. Not only that, but a third book sprang up out of nowhere! They are super short "reviews". Pretty much because I merely shouted my reactions and didn't elaborate. *funny face*
Liza's expression!
So, what I've decided to do is share all the books and their synopsis', I'm putting them in series order. These books can be read as stand-alones. I recommend you read them in series order because there are details in the latter books that give away what happens in books prior. I read these books out of series order and that's why I recommend you read them 1-2-3, and not 2-3-1 or 3-2-1. I own all three of these books. I bought them with leftover change from gift card winnings. The third book I did request an e-ARC from the author, but bought a copy later on. Okay, enough of my ramblings. Let's get to it!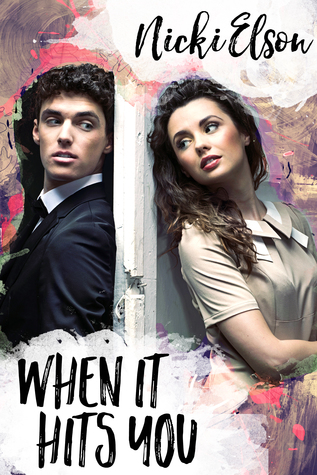 Kindle Edition, 201 pages
Published January 25th 2017
Kindle Direct (first published April 21st 2015)
Electronic. That's how my love life was supposed to stay. Just me and my B.O.B.s (battery-operated boyfriends, if you don't know). I didn't expect to get partnered at work with the Adonis in Ralph Lauren. And I certainly never thought he'd turn out to be anything but an arrogant jerk.
Lyssa Bates doesn't need a man. The twenty-six-year-old financial analyst is more than fulfilled by her career, friends, and a ready supply of double-A batteries. Her relationship with Hayden King is purely professional—and that's how she intends to keep it. But accidental kisses in Dallas, all-nighters in Chicago, and hot tub confessions in Baltimore mess with her head and shake her resistance. Especially when he turns his charms full on her.
Why is it that whenever you're not looking for love, that's exactly when it hits you? ~Lyssa
This novel was originally published in 2015 under the title Vibrizzio.
When It Hits You by Nicki Elson
My rating: 5 of 5 stars

Can I keep Hayden?!! ❤❤

Aahh! Took me a while, but I finally found some free time outside of my regular reading ARCs for review time, and boom! Massively in love with this story. Maybe I should gave started reading with this book, but it wasn't out until recently. I like the current title better than the original, just saying. Love Hayden!!
Kindle Edition, 201 pages
Three dates. It was only supposed to be three dates—he was only meant to be a fling. I didn't want to feel all of this for him. And I certainly hadn't counted on him keeping such a deal-breaking secret from me.
Till death is too long for Trish Cerise. The twenty-seven year old receptionist is tired of men asking for her forever when she just wants to keep things light and fun. World-traveling businessman Adam Helms steps off the elevator and into her life with his own reasons for keeping relationships at a safe distance. Together, they're destined for the most glorious short-term romance in history…until they break their own rules and Trish learns something about Adam she wishes she never knew.
I know a future with him is impossible, but how do you break away from such an intense, consuming, heart-crushing love when it hooks you? ~Trish
When It Hooks You by Nicki Elson
My rating: 5 of 5 stars

Awwwwww!!!!!!!!
Seriously, I cannot think of anything else to say other than "awww www!!!!!!" Like, I love Adam. My heart was in pieces over another book and I didn't know what I could read after that and then I came to this. Absolutely loved it!!
Kindle Edition, 223 pages
Published October 19th 2016
Virtual. That's where she was supposed to stay—only in my online gaming life. I never intended to meet up with her in person. And I certainly hadn't counted on her being who she is.
Cliff Walsh has dozens of hot, smart, and willing paramours in his video games. Who needs to look further? The twenty-eight year old attorney is done getting his heart smashed by real-life women who fit his perfect-mate checklist. From now on, he vows to keep his romances digital-only…until a certain redheaded gamer twists all his preconceptions and touches a place in his heart he didn't know existed.
I always thought I knew what love would look like, but sometimes you don't recognize it until the moment when it holds you. ~Cliff
This is a stand-alone novel in The It Series family.
When It Holds You by Nicki Elson
My rating: 5 of 5 stars

Cliff finally gets a girl!!
After reading When It Hooks you and learning who Cliff was, I definitely wanted more of his character. I liked JoJo in that book, and I sensed some of her self esteem issues without even reading that much of her. I relate to her so much. Love this story!

View all my reviews
That is all . . . WAIT! There's more! Nicki Elson has a bonus short story to this series!
Published November 8th 2016
WHEN IT BEGAN is exclusively available to subscribers to Nicki's News.

Chuck's admired Amy from across the classroom all semester…but the timing never works out to actually talk to her.

Amy notices him looking, and she likes it…but he never makes a move.

As Trish says: "He's too scared to approach, you're too principled to make the first move, so you both miss out on what could be a great relationship."

Chuck and Amy only have one night to prove her wrong.

WHEN IT BEGAN is an e-single prequel to The It Series by Nicki Elson. Exclusively available to subscribers to Nicki's News.
Okay, NOW my post is finished. You can never share a book too many times. I know that I often mention many of my favorite authors and titles. That's just how I roll. What are some Contemporary reads that you like? Do you have any favorites? Comment below and give me suggestions. I'd love to hear them!
Visit my Facebook page!