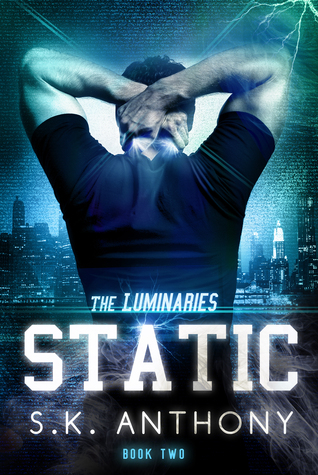 STATIC
Static (The Luminaries #2)
by
S.K. Anthony
Genre: NA Urban Fantasy
Release Date: September 20th 2015
Kevin Pierce is a teleporter, a ladies' man, and a loyal friend. Or so he thought.
As a genetically altered Luminary, he helps the government bring down some of the most dangerous criminals. Not very challenging if you have his special abilities. But when a group of rebel Luminaries attacks his Organization the fight for survival begins.
One shattering event after another tests the depth of his relationships, his sanity, and his powers. Emotionally torn, Kevin must choose carefully where his loyalty lies. In the middle of all the unexpected chaos he gets the biggest shock of his life when he's faced by a betrayal he never saw coming. Angry, injured, and ready to even the score, Kevin goes Static . . .
DISCLAIMER: Though this is part of a blog tour, the author made the book available on Amazon for this purpose. I will try to keep spoilers to a minimum, as this is the second book in the series.

Ohmigosh! I cannot even begin to tell you how amazing this book was! Firstly, it takes place some years after the first book, and is told in a different perspective than the first book, but you do need to read the first book to know what you are dealing with.
Kevin Pierce is the younger half-brother of Nick, whom was a supposed threat in the last book, but we eventually learn his reasons why he was doing such things. Kevin can tele-port people and objects. But too many at once can be a strain on his energy.
I really L♥VE how Kevin is with his nephew. He might say he is trying to help the kid "man up", but he is baby-talking him just as much as everyone else. ♥
Kevin is best friends with Ryan (she's a girl *WINKS*) and they make the best team in the Luminaries. But when the force in compromised, things get extremely interesting.
Rating: 5 of 5 Static Stars.
I devoured this book. Literally ate it right up. Read it too quickly, but so glad that I have it and can go back again. That ending. Not the ending alone, but certain scenes leading up to that ending. I have so many unanswered questions, but at the same time I am coming up with plausible scenarios on my own. I shared this book with one of my brothers, to a minimum because of the NA content. Kevin's cocky behavior reminds me of him and when I told my brother about it, he asked me to prove it. I did prove it and he was just as much hooked as I am.
S. K. Anthony is a writer, a reader and a make-stuff-up-er who lives in New York with her husband and toddler twins. She is a wine connoisseur, which just really means she knows she loves it, and a caffeine addict. When she isn't busy with her family she finds herself being transported into the world of imagination. Well, either that or running away from spiders…she is convinced they are out to get her!