Hey Haven Invaders! Welcome back; I have another compiled book review for you. These books are more middle grade, YA/Coming of Age type of reads. However, I am super stoked to share this with you. The author contacted me, asked if I would be interested in reading/reviewing and I love foxes, so I couldn't pass it up. Even my bestie told me to go for it, because he also likes foxes. Just to recap, a personal preference of mine is to simply express my reading experience and not retell the entire synopsis of the book when it is right above my review. That being said, here is what I thought of these two books.
(The Fox and the Girl, #1)
Published: July 27th 2016
Given an insurmountable task, an Arctic fox named Luza must travel the countryside until she finds the Princess of the forest. Hunted by a master hunter and his Croatian sheepdog, both focused on killing her before she accomplishes her mission, Luza must find a way to persevere. She brings hope for those who live in fear of the new King and his lofty ambitions.
Unknown to Luza and the majority of events outside the village of Gilmanton, Keira plans a visit to her mother's grave as her uncle departs for the beginning of hunting season. Life hasn't always been easy for the young teen, and today's chance encounter with the Arctic fox will only force her to reflect on the past and how it defines her going forward.
Keira will immediately be forced out of her comfort zone, but will do so willingly to help Luza accomplish her mission, regardless of whether it means sacrificing herself or putting herself in harm's way to do so.
Luza is the first book in The Fox and the Girl series and the first of many adventures for Luza and Keira.
Luza
by
Frankie Yandow
My rating:
5 of 5 stars
Oh my gosh! I love this!
A girl who speaks to animals, knowing they most likely cannot speak back. But they do! I was intrigued by the fact that this story follows a fox princess. Foxes are one of my favorite animals and they usually have a bad rep, but I love how this story totally turns your favor towards them. The characters are well created; I love Keira. Luza the fox had me smiling and a bit panicked, but its all good. The story ends on a cliffhanger, so now I am completely out of sorts. For a middle grade/YA/coming of age, this is a great book.
(The Fox and the Girl, #2)
Published: October 5th 2016
Manning Lake Press
Following on from their near capture at the hands of Bilal and his followers, Keira, Riley and Luza make a daring escape and cross a lake to seek refuge with the faeries. Despite their attempts to remain focused on their task, the friends are finding it difficult and must use all their combined resourcefulness to persevere.
Riley is struggling to keep a number of potentially damaging secrets which could completely unravel their journey, while Luza is recovering from her injuries and the poison given to her by Bilal's dog. She knows that she must somehow regain her strength in time to fulfill the prophecy, but, like Riley, the fox also knows more than she's telling and it could cost Keira dearly.
Meanwhile, Keira has a brief reunion with her father and must come to terms with the new found knowledge that her life has changed forever. Accepting it, and her new task, is a different matter however, and she isn't sure if she will have the strength to do what is asked of her.
Can the three friends be prepared before Bilal returns to seek his revenge? Will they fulfill the prophecy or will the forces of Sohon win the war over Lane, his daughter and all that is good in the forest?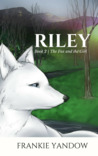 Riley
by
Frankie Yandow
My rating:
5 of 5 stars
I'm about to go insane!
Now that I've read this book, all I want is more! The connection between Riley and the two princesses is nicely executed. I liked how the King is in relation to Keira, and the way he protects her. Everything is connected some way or another, and I really enjoyed it.
Foxes are my favorite animal recently and getting to read a story with them as the main focal point is really fun.
I received a complimentary copy of this book from the author for honest review.
View all my reviews
There is a third book in the making. I do not know