Hello, Haven Invaders! It's time for a new review-ish on a new series I've been watching on Netflix. Please keep in mind that I am sharing my thoughts on this show out of my own interests. I am not being sponsored by anyone to review the show, I just.... Read my review to know what I think!
Shipwrecked in the South Pacific, explorers encounter a menagerie of fearsome creatures, including a giant ape known as Kong.
Characters: Mike, Island Girl, Annie, Sam, Charlie, Islander, Cap, Irene
First episode date(and all of Season One): June 22, 2023
Program creator: Brian Duffield
Languages: English, Japanese
Network: Netflix
Genres: Adventure fiction, Action fiction - I would include adult animation here, because there is minor use of strong language.
My First Impressions: The trailer was amazing; I was immediately drawn to the art style, which is very reminiscent of Japanese Anime. I've only watched one, and it was a long time ago; I'm not an expert by any means.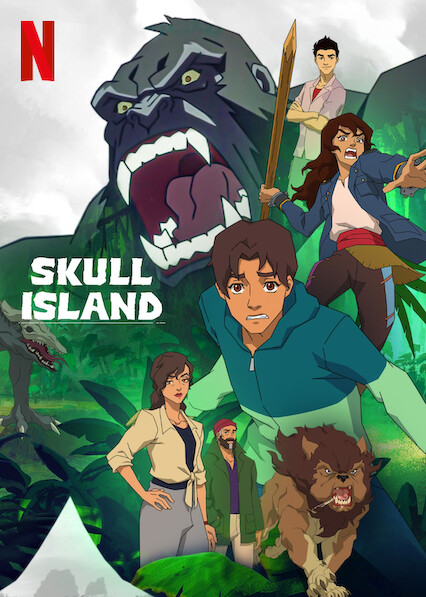 From the first episode, the action is there. The characters are believable and the dialogue is extremely entertaining. The dynamic between the teenaged boys and the girl with her giant Dog-beast had me laughing, and crying. I actually watched each episode twice because I was making sure it would be okay for my two younger brothers.
If I'm honest, I did look up some spoiler-filled reviews because at one point I thought something would happened and didn't know if I would want to continue. But after reading those reviews, and learning what was coming next, I felt confident to keep watching.
My Final Thoughts: The series has a lot of potential and if Netflix stays away from their "Cancel it after the first season" routine, it can really become a winner. I do agree with the reviews I've been seeing across the web: The series seems to focus on the humans more than the actual monsters. But I will add that I feel a story building from it all. And with how this season ended, I am eager to see more.
Have you had a chance to watch this series? What are you thoughts? Comment below, I would love to hear what you think!