Author: Michelle Madow
Narrator: Andrea Emmes
Series: The Transcend Time Saga, Book 1.5
Length: 1 hours 8 minutes
Publisher: Dreamscape Publishing
Released: Jul. 31, 2017
Genre: Clean Romance


How far would you go to get revenge? When Chelsea Givens discovered that her ex-boyfriend Drew dumped her to be with her former best friend Lizzie, she'd never felt so betrayed in her life. Then her new friend Shannon tells her she can help set things right. Chelsea's willing to listen, but what Shannon wants her to believe - that she shared a past life with Drew - is impossible. And what she wants her to do to get him back ... well, it's downright crazy. Could Shannon be telling the truth? And if she is, what lengths will Chelsea go if it means making Lizzie pay?





Michelle Madow is a USA Today bestselling author of fast paced fantasy novels that will leave you turning the pages wanting more!
She grew up in Maryland and now lives in Florida. Some of her favorite things are: reading, traveling, pizza, time travel, Broadway musicals, and spending time with friends and family. Someday, she hopes to travel the world for a year on a cruise ship.

Audible Best Selling Narrator, Andrea Emmes was born in Hollywood, FL and grew up in both Tennessee and Rhode Island, started her career in musical theater. Cutting her teeth at The Trinity Arts Center in Rhode Island, Andrea eventually made her way to Orlando and began her eclectic career singing/dancing in various shows at Walt Disney World, Universal Studios, Pirates' Dinner Adventure, performing as a magician's assistant, headlining on the Las Vegas Strip and touring Los Angeles as an L.A. Award winning artist with her album, "I'm On My Way".
Having worked in tv, film and video games, Andrea, a total Book Nerd, now enjoys narrating audiobooks at her home studio in San Jose, California.
Her wide range of character voices and dynamic/emotionally invested performances has reviewers and listeners alike commenting on how she effortlessly pulls listeners in, and has versatility and charisma.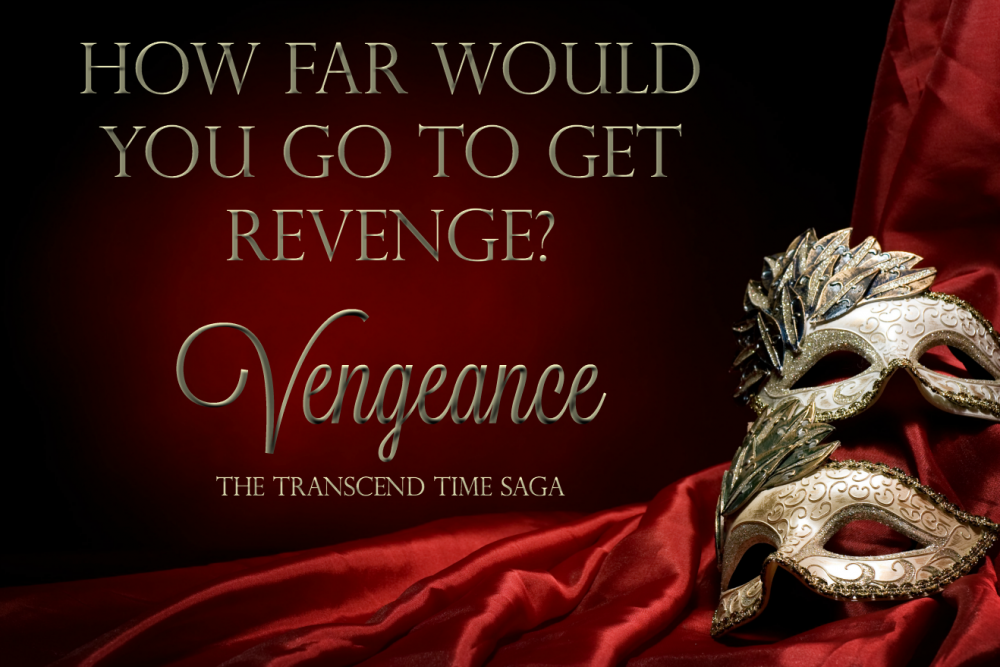 I received this audiobook as part of my participation in a blog tour with Audiobookworm Promotions. The tour is being sponsored by Andrea Emmes. The gifting of this audiobook did not affect my opinion of it.
Second installment to The Transcend Saga, and it had me going for a moment. Mainly because I was so annoyed with Drew's ex-girlfriend, Chelsea. I mean, I think I could sympathize with her. She lost her boyfriend. She's back with a vengeance. Hence the title. Chelsea is pissed off. I guess I would be too, but because I fell in love with Drew and Lizzie in the first book, I'm a bit partial to them. Chelsea is not terrible, the entire story works and gets you animated. Michelle Madow has skills!
And again, Andrea Emmes. It's cool how she can narrate a different character and still be within the same parameters of a story. Because, Vengeance follows a slightly different situation, but is still within the same aspect of magical realism, time travel. She's amazing at what she does.
MY RATING: 4.5 OF 5 STARS.
Remembrance, Book 1
Vengeance, Book 1.5
Timeless, Book 2
Nov. 1st:

The Audiobookworm
AudioSpy
The Writing Train
Nov. 2nd:
Lisa Loves Literature
Nov. 3rd:
Lilly's Book World
The Book Junkie Reads . . .
Nov. 4th:
Up 'Til Dawn Book Blog
Nov. 5th:
Haddie's Haven
Jazzy Book Reviews
Nov. 6th:
The Book Addict's Reviews
Literature Approved
Chapter Break
Here's to Happy Endings
Hall Ways Blog
Nov. 7th:
Ginger Mom & the Kindle Quest
My Creatively Random Life